Welcome to Tom Wood Lexus
Whether you're a first-time Lexus buyer looking for the perfect new luxury car or you're a loyal Lexus customer seeking service for your current model, turn to Tom Wood Lexus – Indiana's only authorized Lexus dealership! Other car dealerships nearby can't deliver on what Tom Wood can offer, because we adhere to a very strict set of standards commensurate with the reputation of the prestigious Lexus brand. As such, our exceptional prices are better than the competition. That's because we're always offering corporate Lexus sales incentives and transparent One Person One Price program, which local used car dealerships and independent vendors simply can't compete with. When you consider competitors' prices versus what you actually receive for your dollar, there's no better value than our Lexus dealership in Indianapolis, IN.
| Benefits | Tom Wood Lexus | Average Indiana Luxury Dealer |
| --- | --- | --- |
| Best Price First | | |
| No Hassle | | |
| No Stress | | |
| Non Commission sales | | |
| One Point of Contact | | |
| Assist with Financing Options and what is best for you | | |
| Product information and Personalization | | |
| Respect for time | | |
| Warranty Information and Vehicle Protection Items | | |
| Document Preparation | | |
| Final Check out | | |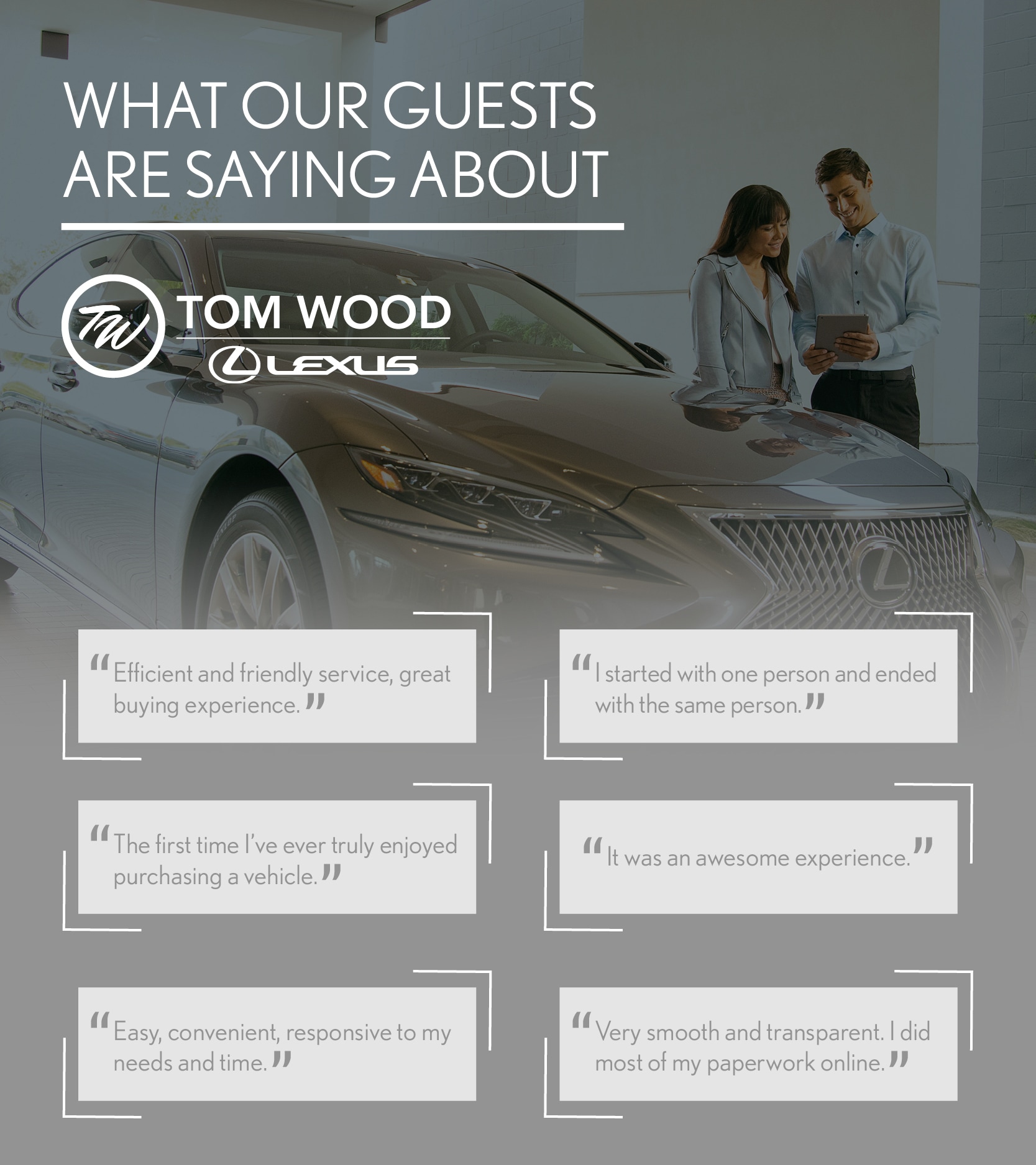 What Is The One Person One Price Approach?
At Tom Wood Lexus, we want your buying experience to be the very best. Over the years, we have changed our business model to be centered around transparency and the guest experience. We offer one person to assist you throughout the buying process and one transparent price. This doesn't only apply to new and pre owned vehicles but also service, parts, accessories, and more! Our designated team of analysts research the market to ensure we are providing you with a fair, competitive price. Additionally, your sales and finance consultant will work with you individually during the sales process and will ensure your needs will always be addressed promptly and efficiently.
Benefits offered by our One Person Approach include:
Product information and personalization
Respect for time
Warranty information and vehicle protection items
Document preparation
Final checkout
What Else Makes Tom Wood Lexus Different?
Lexus is viewed as the "Finest Dealer Network," which means we always base our business on high-quality standards set forth by Lexus Corporate.
The Lexus brand is our brand, our only brand and we're very proud to represent it as Indiana's only authorized Lexus dealership.
Loving the Lexus brand is in our DNA, which allows us to focus on the emotional experience of transacting into the Lexus ownership experience. We want to help you find the perfect Lexus!
Tom Wood Lexus is one of the original 80 Lexus dealerships named in 1989, and we still consider it an honor to be classified as an authorized Lexus dealership.
Do other car dealerships nearby offer the corporate Lexus incentives we do? At Tom Wood Lexus, our corporate Lexus incentives and One Person One Price model means you're getting a competitive price every time you shop with us.
Our incentivized Lexus leases are hard to compete with.
When taking delivery of your new Lexus, our Indianapolis dealership has highly trained Technology Specialists who will customize your Lexus with personalized settings and access to Lexus Corporate supported applications.
Our One Person, OnePrice business model is focused on a better way to represent a luxury brand. Local independent dealerships use an outdated business model, i.e. a traditional back-and-forth sales negotiation that's riddled with haggling and hassle.
Please remember, with any new or L/Certified Lexus purchase from Tom Wood Lexus, there are complimentary services provided. You'll get between two and four services, depending on the vehicle.
Make an Inquiry