Lexus Brake System Service in Indianapolis, Serving Carmel and Fishers, IN
Gain peace of mind with Lexus brake system service at our SERVICE by Lexus service center dedicated to world-class craftsmanship and care. Our Lexus-certified technicians acquire Lexus brake system maintenance mastery through programmed factory training and direct experience performing routine brake maintenance and repairs for the RX 350, ES 350, GX 460, IS 350, LS 300, and other Lexus models. We complete brake services in a state-of-the-art facility with genuine Lexus parts. Continue learning about Lexus-certified brake system services. Check the Lexus Service Experience Offers to save on your brake service. Schedule a brake service appointment at Tom Wood Lexus in Indianapolis, IN.
Our Brake Services
Brake Fluid Exchange - Brake fluid transfers and amplifies the force of your foot on the brakes to the calipers; as a hygroscopic fluid, it will absorb moisture and eventually need to be replaced as it becomes less effective.
Brake Pad Replacement - The brake pads consist of a metal backing and a softer brake lining that is designed to wear down; when this lining gets thin, it's time to have your brake pads replaced.
Rotor Resurfacing or Replacement - The brake rotors may become glazed or warped well before they wear out; we can resurface the rotors, smoothing their surface to help you avoid paying for entirely new parts before it's necessary.
Caliper Service - The brake calipers squeeze together to push the brake pads against the brake rotors, and they will regularly need to be cleaned, lubricated, and inspected to ensure that they are providing the necessary precision.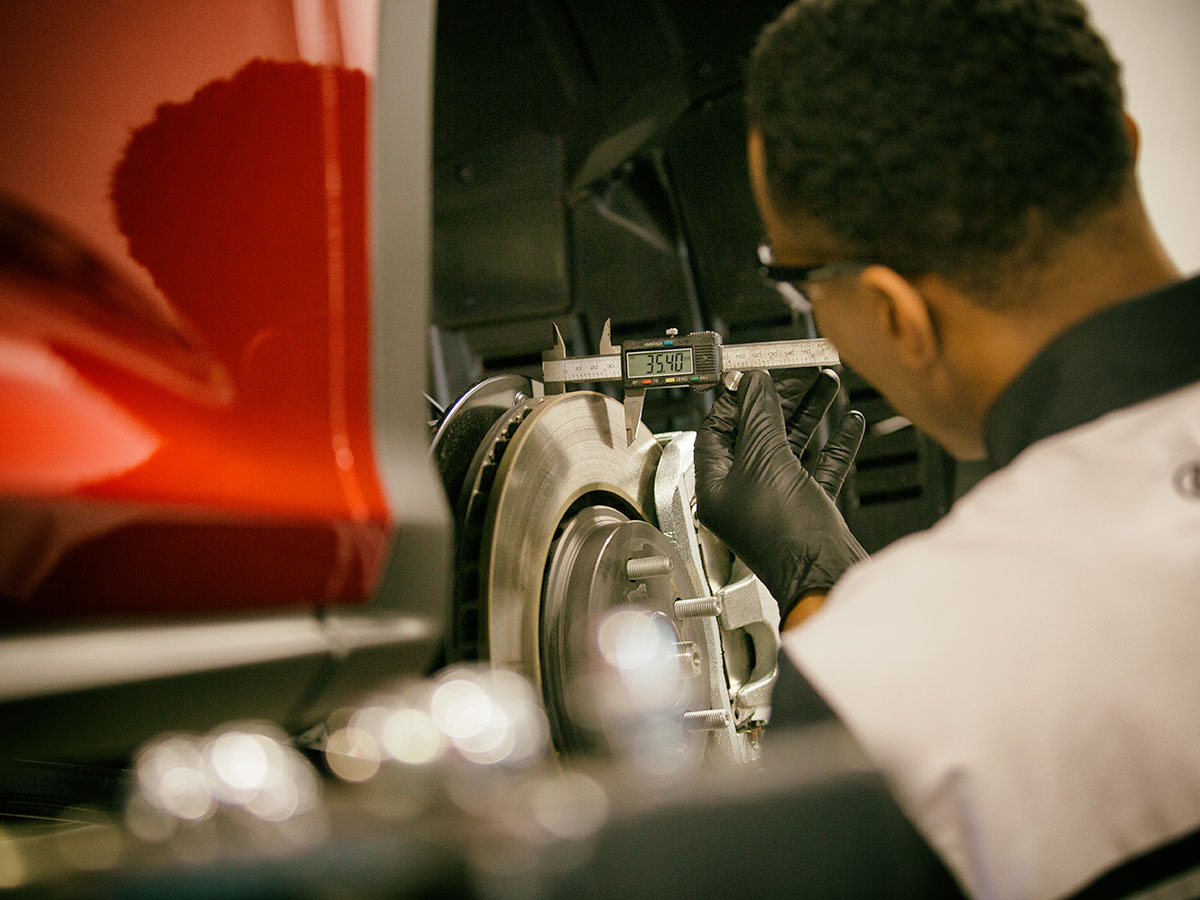 Lexus-Certified Brake System Services, Near Westfield and Lawrence, IN
The brake system has components that depreciate with use and require maintenance. Recommended brake system maintenance starts with regular inspections. A Lexus-certified brake system inspection includes a factory-trained and certified technician checking the essential parts and measuring brake pads. Get a brake system diagnosis for problem identification and repair formulation in response to your vehicle requiring greater distance/time to stop, pulling to the side when braking, dashboard brake system warning light, leaking fluid, metallic screeching or grinding from near the wheels, or brake pedal vibration. Hydraulic brake fluid collects moisture that contaminates efficient energy transfer. Lexus recommends brake fluid exchange every 30,000 miles or two years. Front and rear brake pads generate intense friction to resist forward momentum, slow down, and stop. Brake pads wear down with use and require replacement when no less than 3-4mm remains on the steel backing plate. The brake calipers clamp pads into the rotors connected to the wheels. Brake rotor discs at factory specifications have a perfectly flat disc for maximum surface area and friction. Disc flatness succumbs to intense friction as cracks, scores, and grooves develop. Rotor resurfacing restores disc flatness by removing a portion of the surface with blemishes. Rotors with deeper surface degradation or warping require replacement service.
Schedule Certified Lexus Brake Service at Tom Wood Lexus
Guest can schedule a brake service appointment online or by phone. Brake service includes a complimentary car wash and vacuum. We invite you to consider complimentary pick-up and delivery for maximum convenience or a complimentary service loaner vehicle if you require alternative transportation. Many guests wait for brake service in the 5-star guest lounge with fast Wi-Fi, complimentary refreshments, and flat-screen TVs.