Lexus Battery Services in Indianapolis, Serving Carmel and Fishers, IN
We provide local Lexus owners comprehensive battery maintenance according to SERVICE by Lexus excellence. Our Lexus-certified technicians become battery service experts from service-specific factory training and extensive hands-on experience providing inspections with testing and replacement for the RX 350, ES 350, GX 460, IS 350, and LS 300. Lexus-certified technicians perform battery services in a state-of-the-art facility with genuine Lexus OEM parts. Continue reading about Lexus-certified battery services. Check the current Lexus Service Experience Offers. Schedule your battery service appointment at Tom Wood Lexus in Indianapolis, IN.
Our Battery Services
Battery Inspection - Our technicians will inspect the battery for physical damage and perform a test to make sure that it can still hold a sufficient charge.
Battery Replacement - When your battery cannot consistently start your vehicle, our technicians can remove it and replace it with a new manufacturer-approved battery.
Battery Terminal Cleaning - The battery terminals can sustain a buildup of corrosion that makes the connections looser; we can clean the terminals and tighten the cables.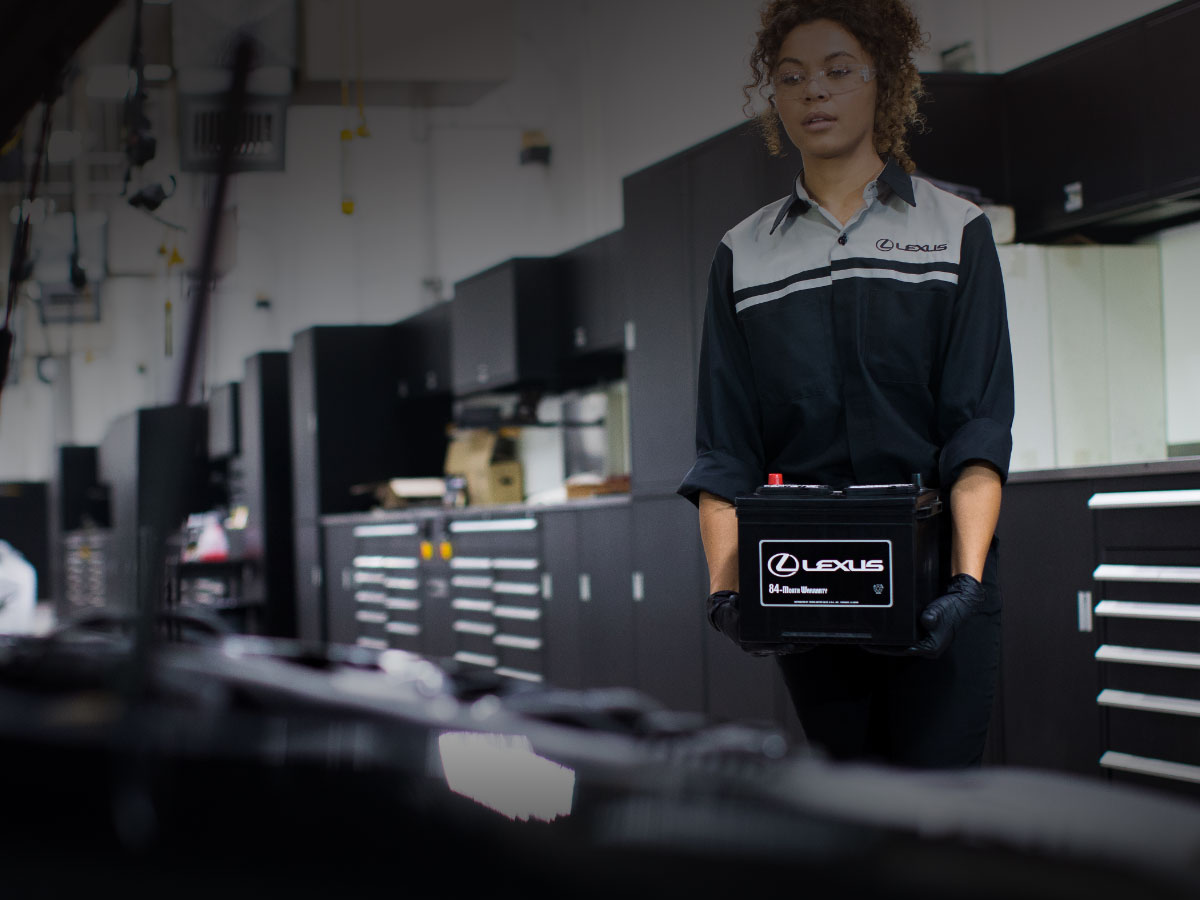 Lexus-Certified Battery Services
Combustion engines require a battery to store and provide electricity for the starting spark. Batteries lose integrity due to continuous electrical cycling, environmental exposure, and acid stratification. A dead battery cannot hold an electrical charge nor provide electricity to the engine starter. Bad battery symptoms include slower engine cranking, dimmer headlights, requiring a jump start, swollen case, leaking fluid, dashboard warning light, and corrosion. Mitigating the probability of a dead battery immobilizing your Lexus includes regular battery inspections with testing. We perform a battery inspection with testing alongside complimentary multi-point inspections. Choosing us for routine maintenance and repairs ensures your Lexus receives a complimentary multi-point inspection with service. A battery inspection with testing is a physical condition check with electrical performance measurement. A Lexus-certified technician looks for physical defects, such as case bloating, leaking fluid, and post-terminal corrosion. Battery testing involves using a voltmeter to measure cold-cranking amps and reserve capacity. We recommend an immediate replacement for batteries with physical defects or failed electrical testing due to the imminent failure probability. Battery replacement consists of a Lexus-certified technician removing the old battery, inspecting the charging system, and installing a genuine Lexus OEM battery according to factory specifications.
Schedule Battery Service at Tom Wood Lexus in Indianapolis, IN
Guests can schedule battery service appointments online or by phone. Many guests find it quick and convenient to browse the limited-time Lexus Service Experience Offers, download a relevant battery service coupon, and schedule the battery service appointment online within minutes of a single website visit. Contact a knowledgeable advisor at the service line during operational hours if you have Lexus battery service questions and schedule your appointment. We invite you to wait for battery service in the comfortable 5-star guest lounge with fast Wi-Fi, flat-screen TVs, and complimentary refreshments at the beverage and snack bar.